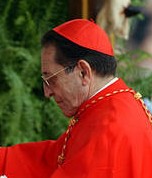 Pope Benedict XVI has accepted the resignation of Spanish
Cardinal Julian Herranz
, the Vatican's top expert in canon law, and named an Italian bishop to succeed him.
Cardinal Herranz, a member of Opus Dei, had led the
Pontifical Council for Legislative Texts
since 1994.
He holds a licence in medicine with a specialization in psychiatry and a degree in canon law
. [!]
The cardinal, who will celebrate his 77th birthday March 31, began working at the Vatican in 1960, serving as a member of the Pontifical Commission for the Revision of the Code of Canon Law from 1963 until the 1983 promulgation of the new code. At that time, the pope named him secretary of the Vatican agency dealing with canon law issues.
His successor, Archbishop Coccopalmerio, 68, Auxiliary Bishop of Milan, earned his doctorate in canon law from Rome's Pontifical Gregorian University and his civil law degree from the Catholic University of the Sacred Heart in Milan. He is president of the commission for juridical questions of the Italian bishops' conference.
Also Feb. 15, the pope promoted Italian Bishop Bruno Bertagna, secretary of the pontifical council, to the position of vice president with the title of archbishop.
The new secretary of the council, the Vatican announced, is Spanish Msgr. Juan Arrieta Ochoa, an Opus Dei priest who had been working as a canon lawyer and canonical consultant to several Vatican offices in addition to serving as president of the St. Pius X Institute of Canon Law in Venice, Italy.